GET TO KNOW US
Goldstone Partners was launched in 2007 in the middle of the Great Recession. You might think that was a challenging time to start a company, but it actually set the course for an innovative business model. During that period there was no shortage of qualified professionals in the market, and although the capital markets were sinking, startups who already had funding were still truckin' along. In fact, early stage companies grew at a record pace during the latter part of the last decade. As a result, we built Goldstone Partners around startups and emerging growth companies to help the incredible entrepreneurs behind the innovation build their teams. We've also spent time assisting hundreds of unemployed professionals get their careers back on track and get back to work. Since then, Goldstone Partners has continued to grow, and is a reflection of this team's dedication to helping others and giving back to the community.
Strategic – Maximizer – Responsibility – Input – Futuristic
Kimberly began recruiting in 1992 in Colorado. She has devoted her career to hiring, training and managing recruiters. She spent time in Corporate Human Resources designing recruitment programs for positions ranging from interns to executives. Since 2004, however, she has been an entrepreneur, and has had the ingenuity and good fortune to have built several businesses from the ground up. In the community, you can find her mentoring MBA students at the CU Leeds School of Business or serving on the board of Rockies Venture Club. She serves as a board member for several local Startups and speaks about her passions (hiring and getting hired) at Meetups around town. As a Gallup-Certified Strengths Coach, Kimberly provides strengths-based coaching to individuals, entrepreneurs and teams to help them achieve both personal and organizational growth. When she's not on the phone or meeting someone new, Kimberly enjoys family time, fishing, hiking, trying out new restaurants and spending time with her two spoiled dogs, Happy and Roxy.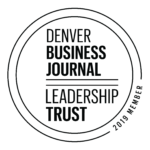 Now that you've met our team, let us know how we can help you reach your goals!